Discover more from Great Books + Great Minds
Great Books, Great Minds is a member-supported digital community with a mission of "Igniting a New World of Community, Connection, and Conversation, One Book at a Time
Over 1,000 subscribers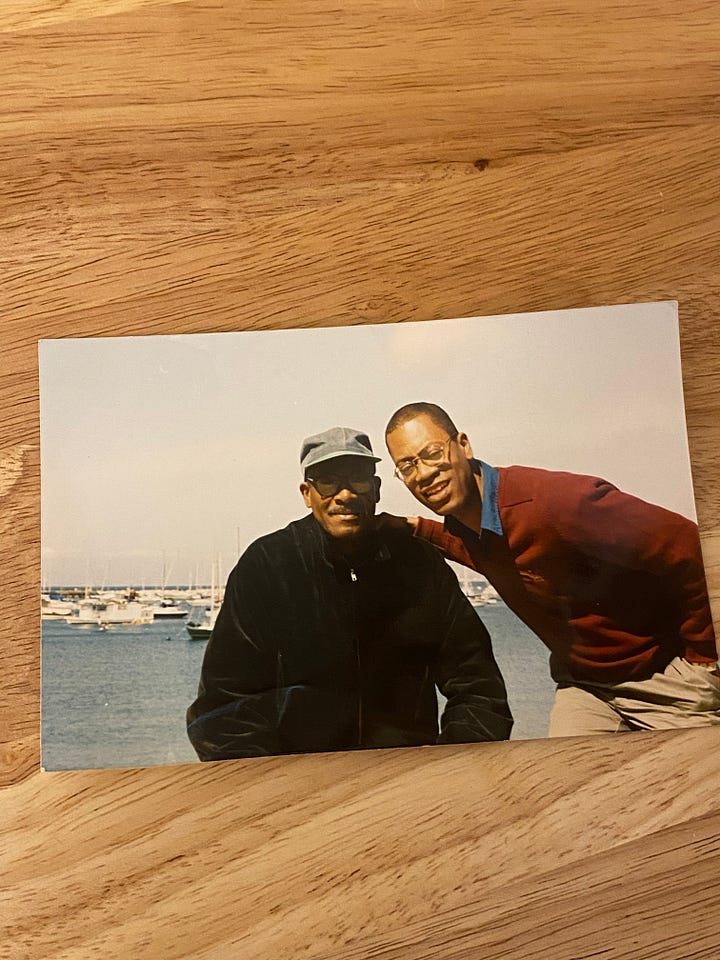 I lost my Dad in 1996. London, England. He was found on the floor of his hotel while on vacation.
On the eve of turning sixty this month, I have been reflecting quite a bit on the existential nature of life. Back when I was in my thirties, the "Tuesdays with Morrie: An Old Man, a Young Man, and Life's Greatest Lesson" was all the rage in the book world. It chronicles the life of the late Morrie Schwartz, professor of sociology at Brandeis University on his battle with ALS the his lived experiences with dying. 
Now years after Schwartz's death, his son Rob Schwartz discovered a unread manuscript by his father. He edited his father's words into the recently released book entitled "The Wisdom of Morrie: Living and Aging Creatively and Joyfully" which offers wisdom, stories, poignant advice told in Morrie's calm and thoughtful voice.
In a feature interview with "Great Books, Great Minds," he discusses his journey in bringing this much anticipated book to fruition 
Please offer some background context in terms of how "The Wisdom of Morrie" came to light. What was the primary inspiration behind your decision to edit it and have it published? 
The story of this manuscript coming to fruition is a long one. I was spending time at home after traveling around Asia in the summer of 1989 and my father was writing this book. So I had a lot of time to talk with him about it. After he passed, I was going back and forth between Japan and the U.S. One day while working on some journalistic pieces (I'm a writer) in his study, I opened a desk drawer and found the manuscript. I could hear his voice in every insightful idea in the book, and knew I had to publish it. 
How does the book "Tuesdays With Morrie" compliment and inform the message of "The Wisdom of Morrie?" 
The ideas in "Tuesdays with Morrie" and "The Wisdom of Morrie" are similar at their base. The big difference is that "Tuesdays with Morrie" is a slim volume that is simply an introduction to my father's thoughts. It's wonderfully written by Mitch Albom, but generally just takes a few lines and paragraphs of my father's ideas on very dense subjects. 
On the other hand "The Wisdom of Morrie" is a deep dive into my father's thoughts and expands on many things he brings up in Mitch's book. My father writes at length on how to be happy, strategies for life, and what holds us back. He examines some of the harmful ideas society has about aging and how to dispel them. "The Wisdom of Morrie" is also full of stories, magazine articles, poetry and exposes meant to inspire people to be happier and live a more actualized life. The basis of both books is spreading joy.
What was your biggest surprise discovery in editing and compiling this book? How did the process and learnings along the way change you personally? 
There were a number of things that surprised me along the way. To start with, in a few instances, my father writes about me or experiences we had together. I didn't expect that. My mother, who had edited my dad's previous books, told me only that I was in a position to edit this book, and that surprised me. I think the part that changed me the most is my dad's psychological insight on how we all internalize negative attitudes like ageism. I realized I need to rid myself of this harmful attitude.
In what ways do you believe "The Wisdom of Morrie" is relevant for the times that we're in?
"The Wisdom of Morrie" is extremely relevant for the present age. We have an aging society and an aging world population. My father lays out many strategies and tips on how to live a more active, fulfilled, and happy life at that stage of your development. He explains and presents thoughts on how getting older can be the best time in your life, information that many people need right now. And more than that, Morrie expands on how the universality of the human experience, at any age, binds us all together and defines our human experience. We live in a very divided society and world. My father illustrates how this does not need to be the case. If we remember and celebrate the most basic and important things, like love, we can live in a more joyful and unified world.
Who do you believe can most benefit from the book's message? 
When my father wrote this book, he directed it at people who are getting older, specifically people over 55. He wants to dispel the myth that aging is somehow unpleasant. He lays out many strategies to make one's life more joyful, creative, and fulfilled. In addition, he convincingly shows that ageism is just ridiculous and misguided. 
What are you hoping readers will walk away with from having read it?
Aging people can accomplish anything. I think everyone, no matter their age, can benefit from reading my dad's insights, strategies, and tips on living a happier, more creative life. Everyone can benefit from his ideas on how to live more effectively and purposefully. I hope everyone will be inspired by my dad's insights and vision of a more unified, joyous world, and put the ideas and strategies into practice.
---
An Invitation From Diamond-Michael Scott:
"Great Books, Great Minds" is my full-time work and life passion, a labor of love fueled by the endless hours of work I put into researching and writing these feature pieces. So if you enjoy this digital newsletter, find it valuable, and savor world-class book experiences featuring epic authors and book evangelists, then please consider becoming a paid supporting member at $6.00 a month or $60.00/year.